Customer Data Privacy: A OneConference Presentation with Fidelity Investments
By Vault JS | February 15, 2022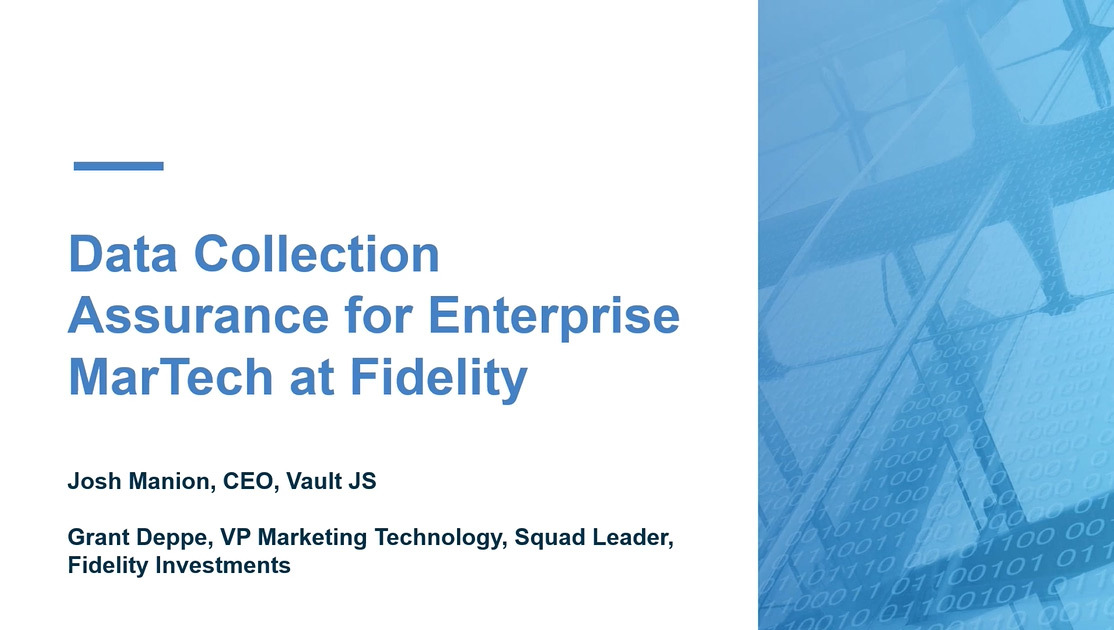 Josh Manion, CEO of Vault JS, recently co-presented with Grant Deppe, VP Marketing Technology at Fidelity. They discussed customer data privacy during the OneConference in Chicago, which took place October 5-7, 2021, and is sponsored by the Digital Analytics Association. A hybrid in-person and virtual event, the conference is considered the premier event for analytics professionals, and brings together speakers, thought leaders, and other respected experts covering a wide range of topics.
During the presentation titled Data Collection Assurance with Fidelity Investments, Josh and Grant discussed the importance of Digital Marketing Assurance, along with new solutions by Vault JS and new initiatives from Fidelity designed to help protect customer data privacy.
During the session Josh and Grant specifically discussed these, among other, topics:
The rapid emergence of the digital marketing technology category.
Best practices for implementing enterprise-wide martech tools and ongoing assurance initiatives.
The importance of communicating and working with multiple inter-office teams, including cybersecurity, vendor risk, privacy compliance, marketing and technology.
How to identify skill sets and add talent.
Digital Marketing Assurance, Defined
Josh began by defining Digital Marketing Assurance, and detailing the growth of martech tools, along with the JavaScript-based tags that power them. These tags have grown from 3-4 on a page just 12 years ago to an average of more than 90 per web page today. Each of these tags communicate with other, third-party tags, which communicate with other tags, each of which are constantly changing code. While martech tools are extremely beneficial, providing a wealth of customer data and information for enterprises, each introduces ever-shifting tag vulnerabilities which can leak important data to third parties, both benign and malignant. Josh discussed how Vault JS was created specifically to address those customer data privacy vulnerabilities, and to ensure martech tools can continue to be valuable assets to marketers. That's what Digital Marketing Assurance is—providing enterprises with the assurance they can use their digital marketing tools without exposing themselves or their customers to risk.
Fidelity and Privacy by Design
The Digital Marketing space is changing dramatically, with rapidly expanding regulations. These changes include greater customer control of their information. Because of this, Grant emphasized "Privacy by Design." This approach, which has been embraced by Fidelity and many other enterprises, makes customer privacy a core element of web design, with customer data protection engineered from the start, rather than added on later.
Grant also pointed out how cybersecurity, privacy compliance, and digital marketing analytics teams have historically been siloed, with individual toolsets and KPIs. But that's no longer a best practice. He stressed that martech teams need to partner with cybersecurity and customer data privacy compliance teams at every step when implementing their integrated solutions. Only with inter-department cooperation can enterprises truly obtain Digital Marketing Assurance.
Additionally, tapping into multiple departments recognizes the unique skillset of your team, including individual strengths and limitations. Marketers may excel in strategy and campaign management, for example, while technologists understand coding, the cloud network architecture and so on. Martech needs to master both; a rare skillset combination, and one best maximized when supported by a larger team.
Vault JS Helps Assure Customer Data Privacy
If your enterprise takes advantage of the valuable martech tools at your disposal, you could be putting your own customers at risk. We've collaborated on Digital Marketing Assurance with many enterprises, and we can do the same with you. Contact Vault JS to protect yourself and your customers, and use your martech tools with confidence.